The Peppe Corner Sofa Bed is the perfect piece of furniture to centre and tie together so many different Living Rooms. With its low, streamlined profile, the Peppe's design knows how to get the aesthetic benefits of minimalism without abandoning the play of lines and intriguing interlocking shapes that allow modern non-minimalist designs to stand out, getting the best of both traditions.
On the level of construction material and craft, the Peppe is also an example to follow, with top of the range high-elastic foam and special spring systems that can yield for comfort but maintain their firmness and responsiveness long term, to the quality upholstery fabrics and impeccable frame, to one of its most exciting selling points: You choose how it looks.
We give the customer full control over what kind of fabric and what colour they want the upholstery to be, from hundreds of possible combinations so you can count on us having exactly what you're dreaming of.
All this and we haven't even touched on the smooth and convenient bed functionality. The Peppe unfolds with unbelievable ease into a double bed every bit as comfortable as you'd expect from the quality of the couch. This multiplies the function you get for your money without compromising on quality, while the unit also boasts a spacious easy access storage area perfect for bedclothes.
Available with the "L" shape reversed, i.e with the projection extending from the right side rather than the left. 
Additional Information:
Prices may differ based on colour and material
Finance Available
Delivery Available
Contact us - (061) 423 710
Dimensions:
Width: 222 cm
Height: 86 cm
Length: 160 cm
Sleeping Area:
Assembly service available, ask for details.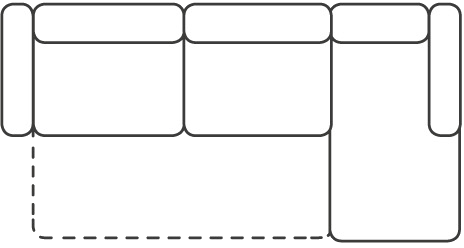 Data sheet
Width

222CM

Length

160CM

Height

86CM

Sleeping Area

140CM X 190CM
Reviews
No customer reviews for the moment.